You are here means you have make your mind for the purchase of the new HVAC condenser fan motor. Now the option is – whether to get your hand dirty or to call up a technician. To replace the condenser fan motor with the help of technician, it will make a big hole in your pocket. Whereas with your simple home tools, you can the whole setup yourself only.
Believe me there is no rocket science in installing the HVAC Condenser fan motors. Check the easy and simple steps to change the motors. Just scroll down to get the few easy steps. In just next 10 mins you are going to fix your fan motor by you and I must say you took the right decision. If you don't understand the steps then also no need to stop scrolling as we shared one detail video of how to install HVAC condenser fan motors.
How to install HVAC Condenser fan motors and their Parts?
The first thing to do for any repair work for such is to cut the power source. This step is for your safety purpose.
To take out the motor unscrew the box nuts by using spanner. Be careful about the depth of blade, while taking out the blade. You must have to have placed the blade approximately at that exact position, while re-attaching the blade. The best option is take some pics of the box before and after taking out the motor it can help you as reference.
Attach the fan motor as it was in the earlier stage. Be sure about the nuts, they must be tight or else loose nut can create havoc in future.
Along the new motor you must have received a wiring diagram, so no need to panic, to rewire everything once again, the diagram will make it easy for you. Wire it up according to the colour code.
Screw it back as initial condition, this is the final step screw everything back to the position of the motor. Now switch on the power and the test the function of condenser fan motor.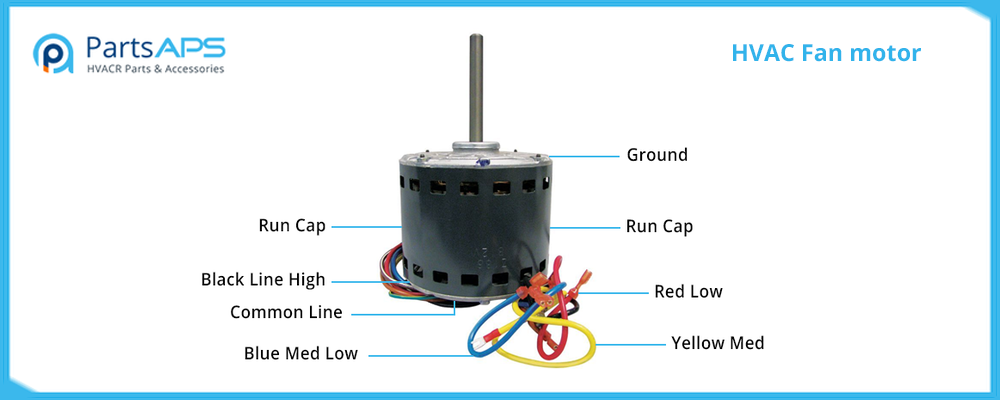 If you want to buy a new capacitor or condenser fan motor for replacement then just check our site – PartsAPS – we have list of best Condenser motor and choose the motor which suites you.
PartsAPS is the anchorage of a wide variety of HVAC parts from leading manufacturers. We supply the replacement parts across the globe at a very low price. And ensure the safe and quick door to door delivery of the spare parts. The exceptional customer service and the unbeatable prices are our speciality. So, try our online store for your next HVAC condenser fan motor Parts purchase.